I have been using SpellForge for quite some time. It is a wonderful program and I highly recommend it. With high level characters, who have a lot of spells (especially clerics), spell lists can get very long and unwieldy. In one of my D&D games I am playing a 10th level cleric whose spell list (as generated by SpellForge) using the Player's Handbook and Spell Compendium is 9 pages long. In my last game session, it seemed to take forever to select spells.
To speed up the spell selection process, I created a spell selection wizard called SpellTrack. This is a simple Excel program designed to import spells from SpellForge and then provide a wizard designed to make it easy to select and keep track of spells.
Here are some screenshots:

Spell Selection Wizard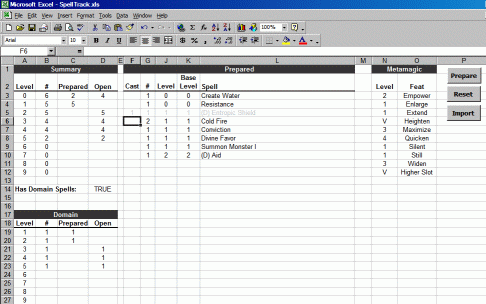 Spell List In Excel
After spells have been selected using the wizard, they are in an Excel worksheet which can be printed out or used to track them as a game session progesses.
While SpellTrack works, I have not done exhaustive testing, a.k.a I am sure there are bugs. Feedback is always appreciated.
No comments